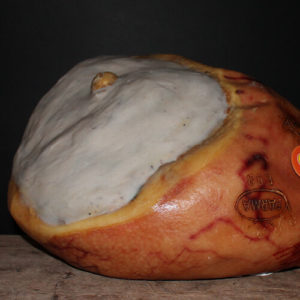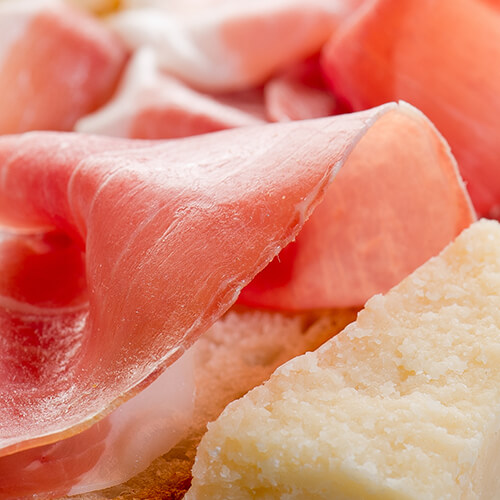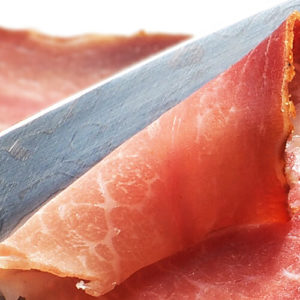 Parma Ham
What it is and how it comes into being
Prosciutto di Parma is one of the most prized, ancient and prestigious cured meats typical and Parma and its province.
It is a PDO cured and salted sausage made exclusively from large legs of adult pigs from controlled and selected farms.
Its origins date back roughly to Roman times, in the heart of what was then Cisalpine Gaul: an area renowned for the skill of its inhabitants in producing salted meats and raising pigs.
Several centuries later, some references inherent to Prosciutto di Parma were found in a cookbook dating back to the second half of the 1300s, and the tradition, production methods and education on the consumption of this renowned cured meat developed and were passed down through the centuries.
In the present day, production techniques have also been refined thanks to the establishment of the Parma Ham Consortium, which constantly supervises and controls the processing in all its phases and the choice of raw material.

Parma Ham Consortium
About the Consortium
The Parma Ham Consortium was established to enhance and protect the already high and renowned quality of Parma Ham.
Since 1963, it has been committed to safeguarding production rules, enhancing the product in Italy and around the world, protecting consumers, overseeing regulations and laws, and safeguarding the name "Prosciutto di Parma" and its trademark (the Ducal Crown).
To date, it has approximately 150 companies originating in the typical production area that continue to preserve, use and hand down the traditional processing method, following the same production rigor deposited with the European Union.

Raw Ham: Nutritional Values
Analysis of Nutritional Values
Nutritional Values per 100 g of Prosciutto Crudo:
All values in the diagram are in grams (g)
Water: 50.3 g
Protein: 25.9 g
Lipids: 18.3 g
Carbohydrates: 0.3 g
Energy: 269 Kcal / 1127 KJ
Prosciutto Crudo is a natural, good and healthy cured meat.
It contains no additives, dyes or preservatives and is suitable for everyone: the high percentage of vitamins, minerals, protein and low percentage of fat make Prosciutto Crudo excellent for consumption by sportsmen, children and adults.
It is a highly digestible cured meat that is rich in natural antioxidants.
Come discover all the other typical SALUMI from Parma on our shoop https://www.isaporidiparma.com/vendita/prosciutto-di-parma/
Discover other products